Keller Williams eAgentC Site
Redesign Your Site Using Custom Graphics and Layout
Don't be boring with your "out of the box" template.  Make your eAgentC site work for you.  The eAgentC site, free to all Keller Williams agents, is a great resource for building your own personal brand.
Did you know that your Agent profile on KW.com is automatically tied to your eAgentC website?  Therefore, if you don't update your KW profile to a different site and you have done nothing with your eAgentC site, this is what people searching for Agents on kw.com will see when they click on Visit My Website.  Not very unique or professional.
Consider this; if other Agents are searching for a referral agent out of the area, do you think they will consider an Agent with no profile picture and a blank template website?  Probably not.
We can help you make your eAgentC site shine with a makeover.  We will work with you to develop your own personal style and create a homepage that reflects you and your business. Take a look at this site.  This is an eAgentC site with a new custom skin.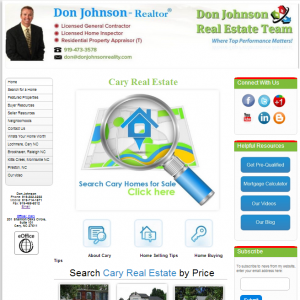 Keep in mind, eAgentC sites are equipped with Wolfnet IDX solution which is tied to your eEdge database.  However, you have to set it up to use it!  For only $10 per month, you can add the map search feature to your Wolfnet IDX.  We highly recommend adding this feature.
Contact Us today to learn more about making your eAgentC site stand out above the rest.
We can also help you optimize you eAgentC site to make it SEO friendly, including a custom domain name, adding custom pages, video and more.