We have clients ask us all the time if it's worth getting a RainMaker account on Active Rain.  Our answer is YES – IF you are actually going to Blog and Blog with purpose.  Otherwise it's just $49.00 down the drain.  That's the simple answer.
Now the questions is, "How do I blog with purpose?"  In order for an Active Rain Blog – or any Blog for that matter – to be ranked and noticed, it must be purposeful and provide specific information.  We have found that the most successful Blog posts are those that are neighborhood specific.  Again, as we have said before – Hyperlocal Marketing is key.
Here is a Blog post we did for a client in October.  It is now on Page 1 of Google and it actually was on Page 1 rather quickly.  Key Word Search "Alyson Pond Homes for Sale".  He has a paid RainMaker account, meaning that his posts can be viewed by the public.  A free Active Rain account can only be seen by members of Active Rain.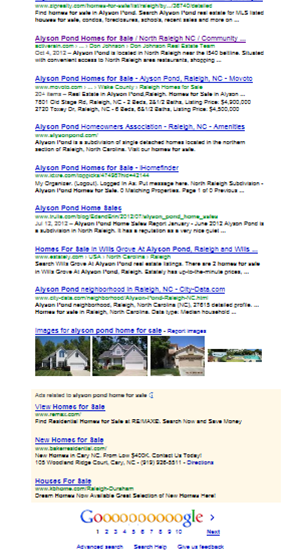 Click on the picture above to see the actual Blog Post.  Notice in the post we repeated the title of the Blog several times.  We also included links to his website, social media sites, the neighborhood HOA, and other local links to create relevancy and legitimacy.  We also created a search in Wolfnet to link visitors to homes for sale in that neighborhood.  We also created a short video and inserted it into the post.
This is just one example of creating a Hyperlocal Blog Post.  We have many techniques to get your Blog and website noticed.  Active Rain is a great tool – if you use it.  Posting one or two posts every once in a while is not going to give you a return on your monthly investment.  You need to be consistent, purposeful and provide good content.
It may sound easy, but the reality is that the days and the weeks get away from you and all good intentions go out the window.  It is time consuming and tedious, but it works.  Let us do this for you and you will see results.
CONTACT US TODAY TO GET STARTED!