Hyperlocal Marketing for Real Estate
Creating Original Content Close to Home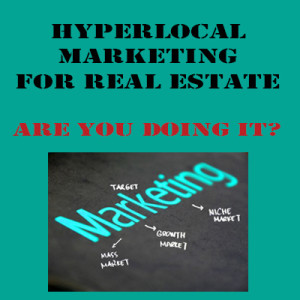 Hyperlocal Marketing is still the buzzword. We all know that you need to create original content that is hyperlocal and of a great quality, but:
Are you doing it correctly? 
How is it going to help you? 
What content should you write? 
Where should you post it? 
Here are some tips to help you get started in creating original content for your blog and website that will help it get recognized int he search engines. Now more than ever, content is king.
Are You Doing It Correctly?
Hyperlocal marketing is information that is geographically targeted and local by nature. It would cover interesting topics and events about a specific area or zip. Google loves local information and original content. Research your topics well and write interesting in depth original information for the reader and in time you will find yourself on the search engines.
The real estate industry lends itself well to hyperlocal marketing by nature. Generally you aren't selling homes nationwide or even statewide, but by city and neighborhood. If you use national data and stats, relate them to the local market. How does this information translate to your market?
How Is It Going To Help You?
When you write great credible hyperlocal content Google will show your information in the search engines for years to come. Main stream marketing would cover larger geographic areas. The smaller the niche you hone in on, the more specific the buyer / reader / target market you will attract. If your keywords are correctly used and your work is well written and interesting – people will find your writing, find it useful and hopefully share it. Refer to previous work you have written by linking back up to your own posts. Build credibility and a following of potential buyers and sellers as you become branded the expert in your market!
What Content Should You Write?
When you write articles on very specific information you are drilling down to a target market that is very unique. If you are selling real estate in Raleigh, NC for instance, offer information on subdivisions in Raleigh. You could go down to more specific knowledge like golf subdivisions or historic homes. Then you could go even deeper and talk about the golf pro, the golf club or the golf course. In historic areas, you could tour a historic home and write a blog about it, then talk about homes in the vicinity and how the neighborhood has changed over the years. The smaller the niche, the better the more targeted the buyer. Don't just think of topics in terms of buying an selling. Think local. Local businesses, parks, restaurants, commute times, etc. Research City-Data, a website used by people who relocate to an area and ask questions of locals. See what they are asking and then write blogs based on your answers.
Where Should You Post the Information?
You could post the information in your blog or you could add a page to your website. You could start a page on a particular City on your website, for example Raleigh NC and give a general overview. Then write an article on Trendy Uptown Raleigh, then choose a particular complex or condo building and write about that. These could all be subcategories of Raleigh. The more original content, well written, researched and informative pages you have on a subject area the more credible you are and in the eye of the public you are soon known as the expert in that area. That is exactly what you would be trying to achieve. Potential sellers like experts and buyers like credibility – win win.
When you write hyperlocal information, don't forget to add pictures or better still, video's to make your post more interesting and before you know it, your writing can be rewarded with a page one Google position. Be authentic, be interesting and write original content from the heart.
This is a long term process. It doesn't happen overnight. However, we do have blog posts that reach page one rather quickly for certain key words because they are original content and very specific.
If writing is not your forte and you are the area expert, call us and let us do your work for you. You do what you do best and leave the rest to us!