CRM System for Real Estate
What is the best Contact Management Solution for Real Estate?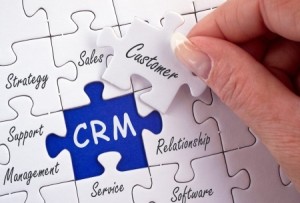 A Customer Relationship Management (CRM) system is a vital component of any successful real estate business. In a recent survey conducted by Software Advice – Real Estate Software BuyerReview 2014, they reported on the motivations driving real estate CRM software purchases in 2014.
The reported noted, "A majority of real estate (CRM) buyers (51 percent) said they were evaluating CRM software to improve efficiency and organization, with 16 percent expressing overt frustration with their current system. Those using manual methods commonly made remarks such as, "My email is a mess," or "I missed out on $5 million in lost loans due to dropped contacts."
Some of the key findings of the report include:
53% of buyers are currently managing contacts using basic methods such as spreadsheets or pen and paper.

51% of prospective buyers are looking to replace their current real estate CRM solution.

36% of real estate buyers requested an integrated suite (5 times more other CRM buyers).
Real Estate, unlike other businesses that require CRM systems, is unique in that the CRM system must be multi-functional and tie into other systems. Also, each individual agent has their own way of conducting business. They work for different brokerages with their own integrated systems, they use different website and lead generation systems and they also focus on different prospecting methods. Given these vast differences and system combinations, there is not one CRM solution that can be labeled "the best CRM for Real Estate".
The Software Advice report also noted these key findings:
Real estate buyers were far more likely than other CRM buyers to have previously used industry specific CRM software.

While contact management was the top-requested feature, 41 percent of buyers also requested email automation—ahead of other core features such as lead tracking.

Real estate buyers were five times more likely than other CRM buyers to request an integrated suite; usually wanting sales and marketing applications.
Real estate agents who purchase a CRM system either 1) know that their spreadsheets and piles of paper are inadequate or 2) they switch from their current system thinking that a new system will make their life easier. Then they soon find themselves overwhelmed with uploading/entering and sorting contacts. They rarely get to the stage of a fully functioning CRM and end up using a fraction of its functionality. Or they realize that the new CRM of choice does some, but not all of what they need and they are back to patching systems together.
The great divide in real estate CRM's is the integration of relationship building tools, internet lead generation and conversion tools, and transaction management tools.
There isn't really one system that does it all or fits every agent's needs across the board. Budget and learning curve are also major factors in committing to a CRM. A lot also depends on how you conduct business. Do you rely heavily on internet leads or do you work your database for referrals and repeat business? Do you do print marketing? Is your business listing driven or buyer driven? How much time you will devote to the system? Do you have an assistant or a team? What other systems and website do you currently use to generate leads, manage transactions and communicate with your database?
A major challenge for real estate agents is keeping track of internet leads, sphere, other lead sources, past clients, vendors, etc. Prospecting in real estate is multi-faceted and poses a unique challenge when trying to find a CRM solution. Having a nice looking website that generates leads is one important goal, but there is much more to managing a real estate business. And finding a system that does it all, in the way you need it to for your business, is a real challenge.
Some of the features real estate agents would like their CRM to include are:
Contact Management with Categorization and Search Capabilities
Social Media Tie In
Integration with IDX and Website
Lead Routing and Lead Management
View Lead Activity on Website
Automated Workflow
Task Management
Email Marketing (email integration)
Drip Campaigns for Lead Conversion
Touch Systems for Relationship Building
Newsletter
MailMerge for Print Mail, Postcards, Flyers
Transaction Management Tools
Calendar and Task Reminders
Transaction Reporting
Cloud Based Sync with Google and/or Outlook
Document Storage to Sync with Google Drive and DropBox
Calendar
Team Functionality
Financial Reporting and Tracking
Integration with Third Party Tools
Market Leader provides a good lead generation website, but customization and branding are limited. The MarketLeader site also offers limited SEO capabilities and no blog platform for content creation. The plus side is that it does a great job of lead capture, tracking and conversion since you are also able to see which properties contacts who have signed up on the site are viewing. You can add contacts to campaigns, although somewhat canned, for follow up. You can also label contacts to sort and follow up. However, the system in not great for relationship building with your sphere. Agents with Keller Williams have a version of MarketLeader in addition to DotLoop, but they are not fully integrated.
Other brokerages like RE/MAX offer similar systems to their agents. The issue with using brokerage sponsored systems is that if you decide someday to change you will have to figure out a way to retrieve all your data and take it with you, if you can. If you have a company website, you will lose all your history and have to start over on the web. This opens a whole new discussion regarding using brokerage owned CRM systems and websites, to be continued…
The key is finding what works for you and making a commitment to it. Find a system that you have the time and ability to manage and use. Something you can afford too! There are free systems out there and you can also create your own workflow using Google Apps for Business integrated with sites like MailChimp for newsletters and FiveStreet or Follow Up Boss for lead management and Placester for a branded website.
Top Producer is one of the oldest CRM System for Real Estate and has improved over time. It can be considered complex and cumbersome to learn. It's a system that you have to set up and work daily for it to be effective. Being able to sync to MLS to import listings and view market data is very powerful when communicating with your database. You can also use Market Snapshot to keep your database informed about the market in their area. The Action Plans and eMarketing systems are easy to customize and implement. The new integration with FiveStreet makes lead routing easier and integration with MailChimp for a newsletter or the template newsletters from Realtor.com can be easily assigned to contacts. One limitation on TopProducer, in our opinion, is that it doesn't offer a nice looking branded website with SEO and lead generation capabilities. The site offered is archaic at best. But the good news is that you can get a nice looking website from a site like Placester or WebsiteBox and pull in your leads to TopProducer. At around $90 per month, it is well worth it if you use all the capabilities, but if you don't, it can be expensive.
Realty Juggler and WiseAgent are both an affordable CRM System for Real Estate. They may not be as robust as TopProducer, but the reality is that most agents do not use TopProducer to its fullest anyway. Realty Juggler and WiseAgent are simple solutions for contact management, basic transaction management and lead management. But they also have their limitations.
Contactually has a much better interface for keeping track of contacts and interacting with them, compared to TopProducer, WiseAgent and RealtyJuggler. But there is a set up and learning curve and it lacks other features that may be important to some. It's great for a relationship based business.
Some systems that have a "built in CRM" are basically agent websites with a back-end lead management (not a true CRM). REW and Boomtown provide nice websites that are SEO friendly and also offer lead management and tracking solutions. With regard to lead generation, some agent websites are better than others at generating leads, however note; no website automatically generates leads out of the box – SEO, Content, Paid Ads, eMarketing, etc. are needed to make any site a lead generation tool. Yes, you can buy websites with this support added, but it will cost you.
Often, the systems that offer pretty websites and internet lead generation/conversion tools, fall short on contact management for contacts that are NOT internet leads – the relationship building aspect of a real estate business. Most do not have transaction management capabilities either. Then you run into the dual or multiple database situation. Internet leads are getting harder and harder to generate and convert. Most are also leads on other sites. So consider the relationship building aspect of any CRM while also considering the lead management capabilities. Decide which model fits your style and budget and how you can combine systems in a meaningful way.
Follow Up Boss, good for incoming/active prospects, can be combined with other Systems like TopProducer or Realty Juggler. If you don't have the time, skills or patience, you can get a system like Curaytor. It integrates Follow Up Boss, Better Voicemail, Contactually, Placester and MailChimp to form a seamless platform for generating and managing leads as well as maintaining relationships within your database. It doesn't include a transaction management component, but you can use DotLoop or Docusign as a work around. This will run you about $1,500 per month, but it's set up and offers great support.
There are many more solutions out there. And many different combinations of systems you can patch together to create a workflow that functions for your business. There is really no one size fits all, out of the box solution for real estate – that's cheap. The reality is that you have to find what works for you , within your budget and then commit to it.
For example, in combining systems, you could use Boomtown, MarketLeader or TigerLeads for Lead Generation/Management, Brivity for Transaction Management and Contactually for CRM or TopProducer for both. Or a combination of other systems that have similar functions. If you are with Keller Williams you could use MarketLeader Pro for Lead Generation and Lead Management and Top Producer for Database Management and Transaction (Task) Management.
Here are some more options to view and assess. Although some are not full CRM systems, they do serve as a pillar to an overall contact management system.
REThink, PropertyBase and LeadingAgent – Customized CRM systems using the Salesforce Platform. Salesforce alone might be too complex for the average agent and could require expensive professional set up and customization for your business, unless you are techie and have time and patience. These systems are already set up for real estate and each offers their own unique system and added features.
AllClients – Web based CRM system, not real estate specific.
Reesio – Transaction Management, Listing Marketing, Document Management.
Realvolve – Workflow system for real estate that integrates with third party apps.
TigerLeads – Real Estate Lead Generation website.
FUEL – Real Estate Lead Generation.
Brivity – Task Management, Client Communication, and Property Advertising
Listing to Leads – Listing Marketing and Lead Generation tool.
Referral Maker, a Brian Buffini System – Relationship Marketing System.
ZoHo – Many customization components, not real estate specific.
Many of these systems have free trials. Try out several of them and don't be in a rush to jump into one full force. No need to import your whole database to test it, just add a few people and transactions and run some test scenarios of your business and see how it works for you. Sometimes it helps to draw out your workflow on paper or use a whiteboard to map out your systems.
Remember, no matter what CRM System for Real Estate you pick, you have to be dedicated to working it daily and keeping it organized or it will all just become a big mess!
If you need help analyzing your business needs and finding the right CRM System for Real Estate for you, give us a call. We can conduct a Business Systems Analysis and steer you in the right direction. If you need help with set up, building content and marketing materials, importing leads and building a website, we can help with that too!